So many wonderful posts last week! It was tough choosing a winner, but we did and that accolade goes to… Virtually All Sorts – well done! Runners up were And Then The Fun Began and Le Coin de Mel – congratulations! Which all means that we ended up with a tie breaker for the monthly winner – nail-biting stuff! Both Virtually All Sorts and Then The Fun Began ended the month on 7 points, so well done to them! We had to go to our tie-breaker decider for the prize to be given to, and that's by simply referring back to the points that Iona and I award every post every week between ourselves, to come up with the weekly winners/runners-up (oh yes, it's a complex affair this, you know!). So on referring back, our overall winner for the month with the most points, and the winner of the gorgeous bracelet is from NJs Gems….
Virtually All Sorts – Congratulations! Enjoy that bracelet 🙂
A new month, new theme, new prize and all that! And this month, the prize comes courtesy of me and my shop, Jocelyn's Cards. It's a big bundle of goodies, including colour-in hats, a letter writing set, a jotter pad, a pack of 10 postcards with envelopes, some wrapping paper and of course, some cards! Felt it was time to share the Phoenix gorgeousness with you! Here it is..
So onto this week, and our theme of yellow.
Yellow is my favourite colour. It makes me think of sunshine, Spring, happiness and optimism. You just know as you read this that I've a 'yellow' Pinterest board, don't you?! Yellow has also kicked off a new little project for me. Regular readers may know that I've recently been running a photography series on the blog, with guest posters teaching me the basics. It's got me really enjoying photography, and thinking about how I take shots, different perspectives, lighting, all the usual stuff! So when I spotted over on Instagram, the #FMSPhotoADay tag, and this month's first prompt was yellow, I knew I was meant to join in! I know I'm late to the party with this one, but better late than never, as they say, and I am loving it for giving me a little focus and a little fun. I kicked off with this, for yellow…
And so far, I'm remembering to join in each day!
What about you? What do you think of when we say 'yellow'? Look forward to reading…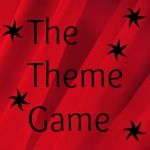 Linky opens 6.30 am Tuesdays, until midnight on Fridays. Next week's theme is 'gardens'