Welcome to the new look, The Theme Game! From now on, it's so simple! Redpeffer and I will choose a weekly theme and invite you to link up any posts that fit with it, old or new. It's a chance to give some older posts a new airing, or to write to your heart's content on the new theme – totally up to you, and we look forward to seeing what you come up with. I'll always announce the following week's theme at the bottom of Tuesday's posts, too, so you've plenty of time to write or find an appropriate post.
It is still a game, of course, so we'll pick a weekly winner, and then both Iona and I will share that post over several days for the world to read (well, our social media followers and readers anyway!). As always, we ask that you do take the time to visit some of the other posts, and Iona and I will add ours to the linky, too – I do love rifling through my archives!
Last week, our theme was 'family', and we had so many wonderful posts link up. We did manage to choose a winner, and our winner was Complicated Gorgeousness – well done! You can read the post here, and both Iona and I loved it.
This week, our theme is 'play', so come link up and share any play-themed posts. It'd be lovely if you can grab the badge, too. Look forward to reading…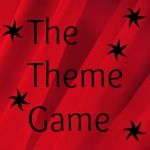 Linky opens 6.30 am Tuesdays, until midnight on Fridays. Next week the theme will be 'funny'