I enjoyed reading last week's takes on 'white'. So much diversity across the posts, makes me love this theme idea! Redpeffer and I managed to choose a winner – congratulations to And Then The Fun Began! Our wonderful runners-up were Becoming a SAHM and Over 40 and a Mum to One – well done! Remember, you get a point for every week that you enter, and the winner gets 3 (and a winner's badge!) and runners-up get 2 points. You can read more about it here and this month's prize is that gorgeous handmade bracelet that I shared with you last week.
So, onto this week's game, and our theme is 'glass'…
I wear glasses. No big deal, I know, lots of people do. I started wearing them in my early teens, just for seeing the blackboard and such like. By the time I was 18, I needed to wear them all the time and my sight's pretty much deteriorated ever since! I'm very short-sighted. So much so that my eye tests are now free – something I suppose! When I need to buy new glasses, it's an expensive business as they need to be thinned down so much, which isn't cheap. Money aside, though I am used to it, it's not great. Without my glasses, I'm useless. You know when you go for an eye test and you have to read the letters? Not only can I not read the top letter, I can't see the chart!
My parents only need glasses occasionally, and only since they've grown a little older, and my brother has perfect vision. I'm not sure what happened to me. I just know that it's one of those things that I really hope I don't pass on to the kids (along with my non-existent sporting prowess and shockingly poor drawing abilities). Sure, they'll be fine, but why wish mole-like vision onto my loved ones…?!
So what does 'glass' make you think about? Grab the badge, link up your posts and take a look at what others make of this week's theme, too…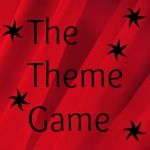 Linky opens Tuesday at 6.30am, and closes at midnight on Friday. Next week's theme is 'Cake'