Ooh, final week of the month. This is it, the prize-deciding week! Someone will be winning a delicious box from Crumpets & Coffee very soon, as well as the usual fun and glory of someone getting a weekly winner's badge! You can read more about The Theme Game here, if this is all new to you 😉
So, last week, with a theme of 'new' we had so many lovely, uplifting posts to read, thank you. But, we had to choose a winner, and this time that accolade goes to Brummy Mummy of 2, with 3 runners-up as we had a tie this week – Mummy Says, Over 40 and a Mum to One and Mum Turned Mom – well done, all!
So, we now have..
Mummy Says – 6
Brummy Mummy of 2 – 6
Over 40 and a Mum to One – 5
And Baby Makes Three – 5
And there are several of you on 3's and 4's, too, as you'll have been gaining a point for each week that you've entered, so a win this week could propel people forward! All to play for, with this week's theme of 'play'…
My Word of the Week last week was actually 'playing', coincidentally. I think we do need to find time to play, both for our children and ourselves. Life can be hard, serious, tiring, so if we've a chance of staying happy and enjoying ourselves, we need to play and play often, I say. I found this quote (yes, on my Pinterest boards, I know, I know it's an addiction!), that says it all for me..
So how about you? What do you think about with our 'play' theme? Write that post, grab the badge, link up and 'play'!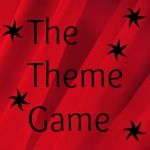 Linky opens every Tuesday at 6.30am and closes at midnight on Friday. Next week's theme is 'white'…