Week 3 of our game already! Redpeffer and I are really enjoying this, and I hope you are, too. Last week saw more entrants, with the theme of 'water' and they were all so enjoyable. But, we had to pick just one winner and 2 runners-up, so well done to our winner, Mummy Says, and our runners-up, Over 40 and Mum to One and Brummy Mummy of 2! Every other entrant receives 1 point. We now have a a little monthly leader-board, looking like this..
And Baby Makes Three with 4 points
Mummy Says with 4 points
ThursdaysChild FridaysThoughts with 3 points
Over40andamumtoone with 3 points
Brummy Mummy of 2 with 3 points
All to play for! There is a weekly winners badge, and remember the overall monthly winner will get a prize, this month supplied by the scrummy Crumpets & Coffee. You can find out more about The Theme Game here.
This week the theme is 'new'. Which is rather wonderful timing, as it means I can share this photo with you..

Little Man is now in his second pair of shoes. He was so delighted to wear them, and as soon as daddy had put them on him, he was running into me to show me, proudly, saying 'shoooes'. I don't recall Boo ever being so happy with shoes, but there's no doubt that he adores his. He also moved up into his new trainers, some cute little retro Vans, and again, his happiness was evident. I suspect he may take after his daddy here, and we may end up spending a fortune in years to come…!
This little milestone also brings with it another, and that's 'new' words. At just turned 16 months, I'm really noticing his speech starting to improve. he is picking up a new word most days now, 'shoes ' clearly being a favourite! In the past few days, he's added 'moo' (we do like playing farmyards here!), 'door' (yes, opening and closing them is THE best game ever, apparently), 'toast' and 'star'.  I look forward to seeing what new words he'll be sharing with us this coming week.
What has 'new meant to you? Look forward to reading your posts..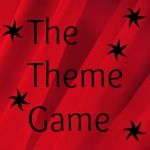 Linky opens every Tuesday at 6.30am until midnight Friday. Next week, our theme is 'play'.