Thank you so much to everyone who joined in last week, our very first week. You can read more about how it all works, and this month's yummy prize, here.
Redpeffer and I were a little overwhelmed by how fantastic all of the posts were, and it was fascinating reading everyone's interpretations on the theme of 'Doorway'. But, we had to pick one winner, and 2 runners-up, as we agreed, so congratulations to our very first Theme Game winner….
And Baby Makes Three – who receives 3 points – hooray!
And our two runners-up:
Thursday's Child, Friday's Thoughts & A Quirky Kook – who both receive 2 points – brilliant!
And every other entrant receives 1 point, and thanks so much – loved them all! I'll be getting our first ever-awarded The Theme Game weekly winners badge over to And Baby Makes Three this week 🙂 If you've yet to join in, do not worry, as there's still plenty of time this month to make a play for that prize, and each week a winner will be awarded anyway.
So, onto this week then, and our theme of 'water'. I took this photo this week, which I thought would be appropriate to share here..
I pondered various metaphors and quotes around water, but in the end, I just wanted to share it in it's simplicity.
I know how destructive water can be, and has been recently. I've seen images of floods, of crashing waves, of angry, swollen streams, of rivers bursting their banks. This picture is water in it's calm, serene state. A still pool, in our local park on a walk last week. Just standing there, with the children looking on, the world felt so very peaceful. Incredible how just a body of water can affect a mood like that, I think.
So what about you? What has 'water' got you thinking about? Grab the badge, link up, check out other posts and join in with The Theme Game!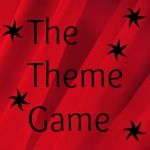 Linky opens every Tuesday at 6.30am, and closes at midnight on Fridays.
Next week's theme is 'new', so get those thinking caps on!