Thank you for continuing to pop by and share your Word of the Week! It's so lovely to read them all each week, and I do really look forward to it 🙂 Anyone can join in, and you can find out all about it here.
Lovely to receive so many well wishes last week. Boo and I are now back to full strength again! And this week, my Word of the Week is..
Lots of new goings-on here this week. I have a new Twitter name (I'm now @ReadingRes) and my new blog design is being created as I type this – more on that very soon. All four of us have had some new books, which is always popular here! Boo has decided that we can play Mummy and Daddy's music at mealtimes, rather than the seemingly obligatory Disney songs and nursery rhymes we've been subjected to for years – this is a new regime that I'm delighted with! And out in the garden there are signs of new life, with shoots and buds all over the place, giving me hope that a new season will soon be here 🙂
What about you? What one word sums up your week best? Grab the badge, link up and share, and take a peek at the others…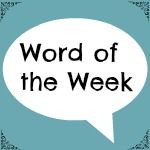 Linky opens at 6.30am Friday, to midnight on Sunday

Visit The Reading Residence's profile on Pinterest.